Ruby, Alaska
A full moon shone like daylight on the small Athapaskan village of Ruby. at the time, 200 people lived there, but the fox prints in the snow show signs of the many other creatures who make their home on the Alaskan tundra where it can reach 35 degrees below zero.
Toksook Bay, Alaska
Since Nulato doesn't have plumbing, hauling water from the river to home gives 13-year-old Patrick Madros, Jr. an excuse to drive the family snowmobile.
Kaltag, Alaska
Joann Pitka scrubs her three sons in the shared bath water her husband hand-carried from the river. There was no running water in Kaltag, Alaska, along the Yukon River.
Kaltag, Alaska
With a snowstorm raging outside their home in Kaltag, randy Pitka clears a path to the family snowmobile, which he uses to take his older boys to school during heavy weather. Despite the high price tag, most Athapaskans find a snowmobile cheaper in the long run than keeping a dog team.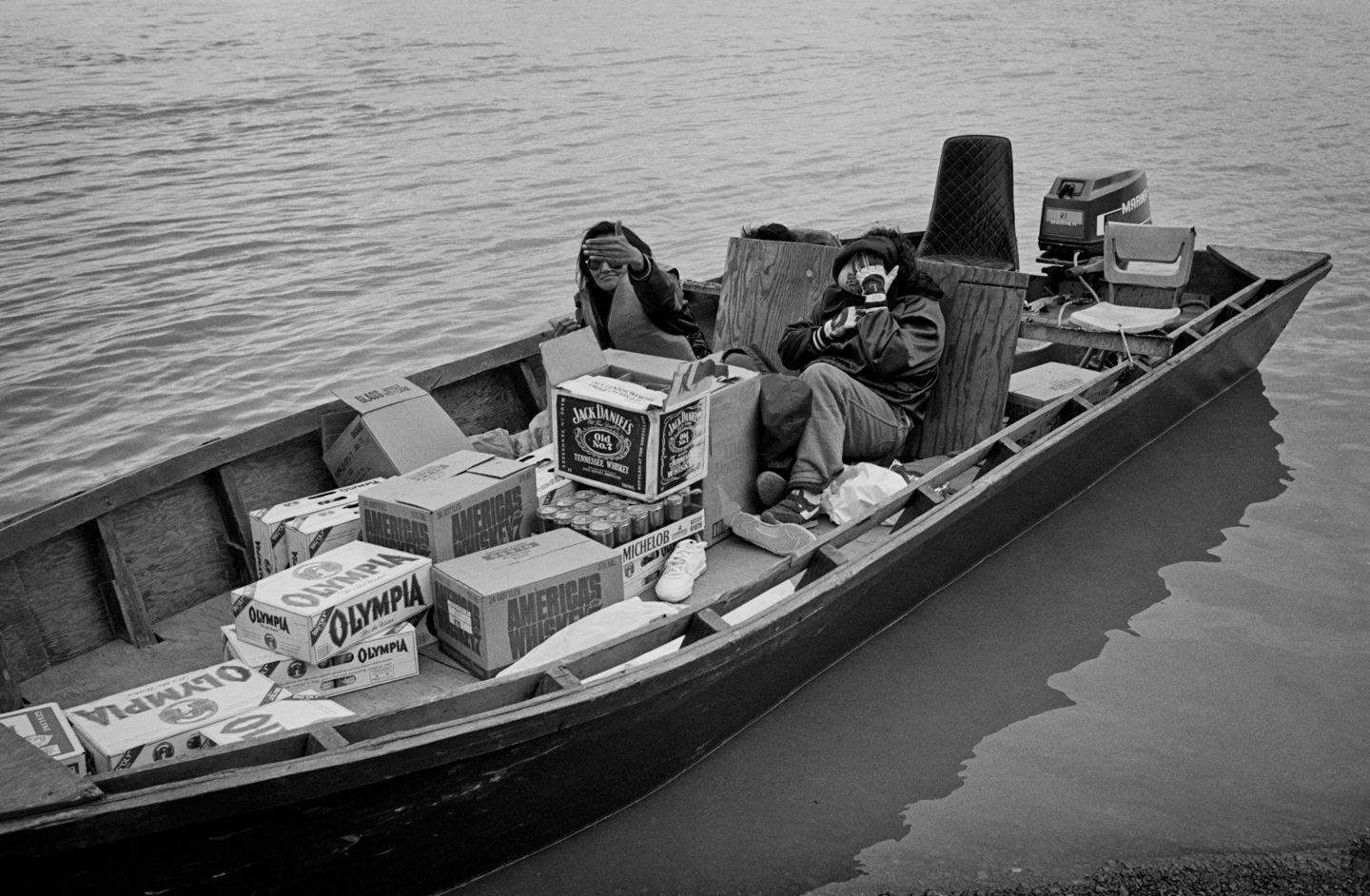 Along the Yukon River
Some transportation brings more harm than good to the community. bootleggers risk $500.00 fines to bring alcohol to these "dry" communities, doubling the price of the goods for their trouble.
Nulato, Alaska
A river of grief washes over family and friends during the funeral of National Guardsman Justin Patsy. He drowned in the Yukon trying to catch a falling boat motor.
Rampart, Alaska
"I dig just enough gold to pay my bills," says Bill Carlo as his grand-daughter picks through a pan full of gold worth about $10,000 from his mine near Rampart, Alaska.
Toksook Bay, Alaska
Roger Huntington considers himself lucky to be alive after his plane crashed in the bush. In order to survive he tore off his burning clothes and hiked seven miles to find help, all in zero-degree weather. He wore a plastic mask and body suit to help the skin grafts heal. Before his life-changing flight, he spent time at his cabin, trapping and skinning marten.
Toksook Bay, Alaska
A prime income source for Athapaskans is the North Slope oil-drilling operation run by a subsidiary of Doyon, Limited. The corporation was created to manage 12.5 million acres covered by the 1971 Alaska Native Claims Settlement Act.
Fairbanks, Alaska
To prepare rural students for a transition to city life, they received instructions on opening bank accounts and applying for jobs. Joe Wright and Stephanie Alexander met at a roller skating rink in Fairbanks, Alaska, on an 'Urban Survival' school trip.
Kaltag, Alaska
Athapascans in Kaltag play night baseball under the midnight sun during the summer solstice with only an hour of twilight between 1 and 2 a.m. People soak up the sun while they can, rarely sleeping, and surviving on cat naps during these bright and warm months.
Toksook Bay, Alaska
During the Stickdance, an ancient grief ritual, the family of each mourned villager dresses a friend of the dead person in clothes symbolizing the dead person. The friend goes through the village saying good-bye on the deceased's behalf.
Yukon River Race
A friend took me up in his Super Cub airplane to photograph the return leg of the 400-mile race on the Yukon River between Galena and Fairbanks, Alaska.
Above the Arctic Circle, Alaska
Wilson Sam, with his son on the snow mobile and wife on the sled, travel 90 miles from Huslia to Selawick Hot Springs, an area shared by both the Eskimos and Athapascan Indians.Write here...
Kaltag, Alaska
The king and queen, half of the graduating class, take to the dance floor at Kaltag's high school prom.
Nulato, Alaska
One of the few women in her village able to perform the ancient Athapaskan songs, Karen Esmailka hopes to pass them on to her daughter, Whitney. In the remote villages along Alaska's Yukon River, such traditions are in danger of being lost forever.
Athapascans